Adult Children Caring for An Aging Parent
Having to figure all this out from nowhere, worry, guilt, stress, frustration.......
I remember the struggles I went through as I was just beginning to care-give my mom. Feeling like I had lost a part of my life and being so overwhelmed that mom and I weren't enjoying the time we had to spend together. Add to that struggling with the role reversal that took place AND dealing with now having to be in control while at the same time not letting my mom feel that she's lost control of her life.
After talking with others who have just begun caregiving for an aging parent, the solution I created is a membership program to support individuals just like you - adult children caring for an aging parent - so that you can have a life of your own and enjoy time with your aging parent instead of having to jump from one urgent thing to another. So that you can transition from being the child into being the adult so you can come to terms with the role reversal and easily navigate the next emergency or injury that will fall on you to deal with.
You love your mom (or dad) but you want your life back. It doesn't have to be an either/or. It can be a both and.
What is this?
This will be a 10 week membership program, where you will be with others who are struggling with caring for an aging parent.
You will be supported with short videos that address your challenges such as asking for help and having difficult conversations. You will be able to digest the information through video or PDF transcript - all easily accessed.
You will also have the support and community others who are struggling with this by having access to bi-monthly (twice monthly) group Zooms (Pour it Outs) and also through GroupMe and also our Facebook community.
Not only will you have access to videos that address your struggles that I myself have conquered but you will also have access to videos from experts in their field such as an elder law attorney, elder care advisors and from other adult children sharing their experience care-deciding for an aging parent.
You also get one 1-on-1 private coaching call with me to answer your questions, help get you focused and solve your biggest challenge.
When is this?
We will officially begin on June 3rd.
What are the benefits?
Short Videos around topics for people just like you, adult children caring for an aging parent, such as How to have that awkward conversation with your aging parent and Giving yourself permission to ask for help, for examples.
Videos on demand. Choose the video you want to watch specifically for what you need when you need it.
One laser focused 45 minute coaching call with me, Coach Wendy, so that you can solve your problems and get results quickly so that you can move forward.
Pour it out support. We will all come together monthly on Zoom to just pour it out. Our struggles, our celebrations and everything in between. Bring a pitcher of margaritas or coffee!
Role play. During our Pour It Out's we will role play conversations you are putting off having with your aging parent. Conversations such as your parent no longer driving.
More Support on GroupMe. Text the community for support anytime. You are never alone.
Private access to a membership dashboard with unlimited access to me so that you can ask questions, ask for help or celebrate between our pour it out sessions.
Access to a Facebook Group community for even more support & resources.
Resources for everything from products to help your aging parent (and that make your life easier) to people that will help make you and your aging parents lives easier and better.
What will be covered?
Together, we will walk each step on the Path to You Again so that you will feel supported and empowered to make decisions and to gain part of your life back.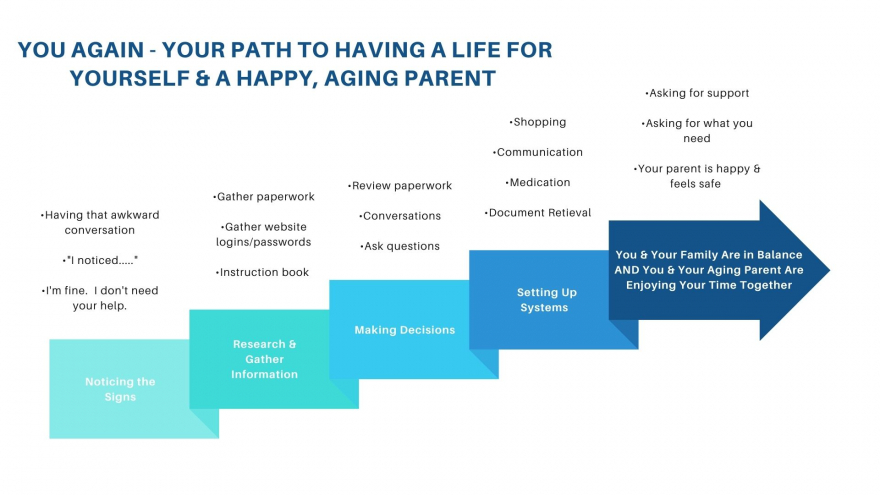 The outcome
You will be able to come to terms with the role reversal between you and your aging parent.
Feel like you've made the right choices and eliminate guilt.
You will get part of your life back.
Have support to avoid feeling overwhelmed.
Accept the situation.
Have resources, support and a community readily available to help you navigate uncharted waters.
Come to terms with the role reversal between you and your aging parent so that you can operate fully from that space, making quicker, better decisions.
Proof that I will get you results. As a daughter who has been caring for my aging mother for the past 8 years, my mom who is 85 years old is living at a retirement home is thriving even in the midst of the COVID pandemic and lockdown. Mom has become increasingly tech-savvy during lockdown, learning how to use Alexa and also how to FaceTime and use the Messaging feature.
I am also a coach who has supported many clients just like you - just scroll down to see what some of them have to say.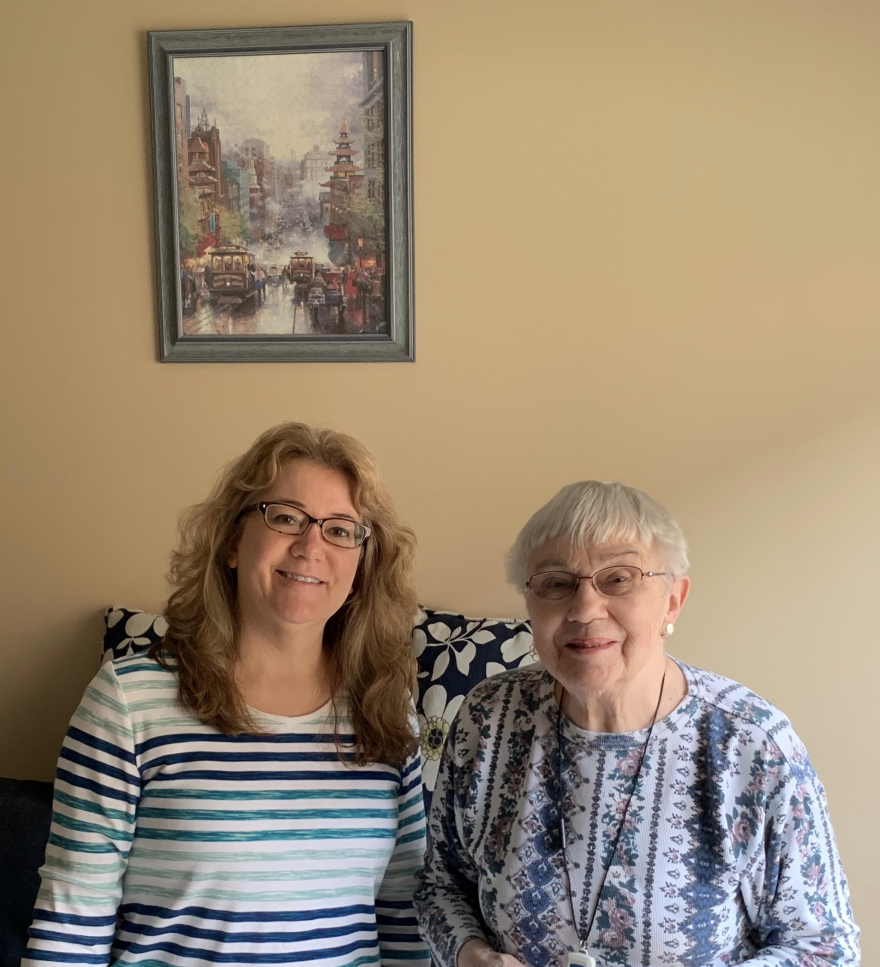 Before this pandemic and because I overcame the many obstacles an adult child faces, I can/could travel (back when that was a thing-no thanks to COVID) and I have systems in place so that I can know that my mom is still well cared for.
I'm stronger and feel much more capable than when I began this journey of deciding on care for my mom 8 years ago. And I have my life back.
During this journey, I myself have overcome and reduced or eliminated stress, a failed business, worry, getting fat, having no personal space/time, physical and emotional burnout and life on a hamster wheel.
The steps that I took to overcome these obstacles I will teach during this program. It is my Path to You Again. Step-by-step, one next action by one next action, you will find that you are living your life and that you also have a happy, aging parent.
I'll also be sharing my Step-by-Step Guide to Making Decisions.
The value for you
Getting part of your life back.
Getting used to being the adult & feeling more confident making decisions.
Feeling empowered to make decisions.
Peace of mind.
Support, solutions, products, information & resources to make your transition from child to adult of an aging parent deciding on their care smoother.
Would you like a spot in this membership program?
Choose a payment option that works best for you:
If you want to pay a different way, just email me at CoachWSBT@gmail.com to let me know how you would like to pay.
I'm so looking forward to supporting you around having peace of mind, to empower yourself to make decisions, reduce stress & overwhelm, free up mental space, have acceptance of your situation, permission to ask for help and most of all for you to get some of your life back.
💖Coach Wendy
BONUS #1: When you enroll before May 24th, I will give you continued access to the live monthly group Zooms (Pour it Outs) for one year, after this program ends.
BONUS #2: When you enroll before May 24th, you also get to enroll an individual who will support you as a caregiver at no extra charge.
Testimonials about the pilot program
Before this program and coaching with Wendy, I was having to figure all of this out from nowhere. That was hard and scary. What if I miss something and how do I make decisions and what's going to happen next?
This was impacting my life because I was frustrated. I finally said yes to this program and to coaching because when I realized my brother needed care, it was clear to me that it was going to be a big job and I didn't know what it meant and what it would take.
After this program and Wendy's coaching I'm noticing my brother seems more together and with it. He's making jokes and calling me sometimes. He seems to get that it was his choice. I didn't know how isolated he really was. Now I'm talking to him once a week and grocery shopping with him. Been talking to my brother about when we were kids and when I bring up things from childhood, he remembers stuff that I don't remember and he tells a story and we share experiences. It's making his brain work.
Finding there's someone who's done it and who's offering a class to teach me to give me other ways to think about was magnificent.
One of my favorite aspects of this program - Wonderful to know I know someone who has done this. Therefore, there's information out there I can find out what my options are. Wonderful to have a connection ….. having other people who are actually doing it now, it's wonderful to hear their stories - what works, what doesn't work.
Frequently Asked Questions
Q: Is it the right time? Should I wait until something happens?
A: Great question. There are two ways to approach this. You can wait until something happens that will trigger your caregiving/care-deciding. Or you can be proactive about it now.
What if you asked yourself this question - When something happens, do I want to be prepared and know exactly how I will react or do I want to react as something is happening?
Q: When are the calls? Are they recorded?
A: Great question. The 'Pour it Out' Zoom calls are scheduled for every other Thursday during the 10 week program at 10:30 a.m. CST
They are not recorded due to the sensitive nature of the topics that are, well, 'poured out'.
Q: When is the next program?
A: Great question. I really haven't planned this out - yet - but I am thinking it may be in November of 2021.
Q: Are they (members of the group) in the beginning stages?
A: Great question. In the past, most members have been either in the beginning stages of caring for/care-deciding for an aging parent or haven't started caring for/care-deciding yet but they see that it will be in their immediate future. A few members have been in the middle to end stages, but for the most part, they are in the same place you are - just beginning to care for or on the cusp.
In the future, I see that I can offer three different programs. One for those that are just beginning to care for an aging parent, another for those that are in the middle of caring for an aging parent and a third program for those that are saying goodbye or have said goodbye to their parent.