Does it seem like a never-ending cycle? You need to enroll new clients. You also need to meet your revenue goals.
The never-ending problems that pop up are stopping you.
I see this all of the time. Especially when you are simultaneously taking care of aging parents AND running a business.
And I get it. I've been there. Taking care of my mom for the past 11 years AND enjoying a successful coaching practice. It wasn't always easy and I've figured out how to do both. My mission is to share this with a million individuals who are taking care of an aging parent and running a business. I don't want you to give up on your dreams, and I don't think that you do, either.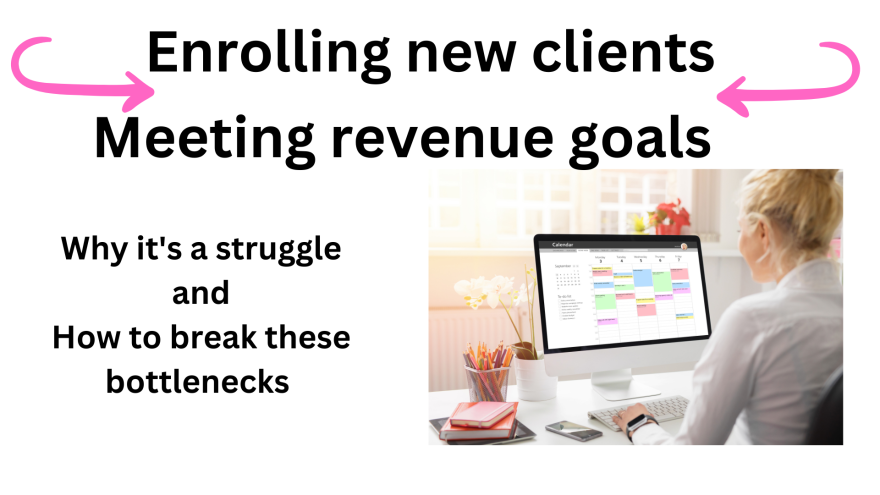 I'm going to share with you what I've learned and how it has helped my clients - so that it can also help you............
How do you break your biggest bottleneck - whether it be finding new clients or meeting revenue goals? Or another bottleneck.
What my clients have experienced is success in enrolling new clients andmeeting their revenue goals. They did it by doing two things:
1. Stepping back and assessing the situation with their aging parent. They identify what their parent needs, what they need and what would make it easier for them to run their business while also being there for their aging parent.
2. Identifying the biggest bottleneck in their business. Then identifying the steps to take to bust that bottleneck.
Sometimes this is easier said than done. We, and I'm including myself here, don't want to admit there is a problem in our business. And once we do, then we empower ourselves to ask for help.
I hope that this was helpful for you and for your business as you are taking care of your aging parent.
When we have more time to spend together, we can talk more about each step and dive into the how so that you can easily integrate your business and life with your aging parent.
❤️Coach Wendy
P.S. Hit reply and tell me - what is your biggest bottleneck?