THERE IS A HANDBOOK TO HELP YOU CARE FOR YOUR AGING PARENT
I sat down the other day and wrote out the steps that I took when I was just beginning to care for my mother, almost 8 years ago. This is what I came up with:
Okay, now obviously I didn't draw this. I Canva'd it to be more specific.
Nevertheless, these are the steps that I've taken and those steps have me and mom where we are today. Happy, feeling safe, sharing laughter and a healthy and fulfilling life for both of us. Even during a pandemic. Even apart.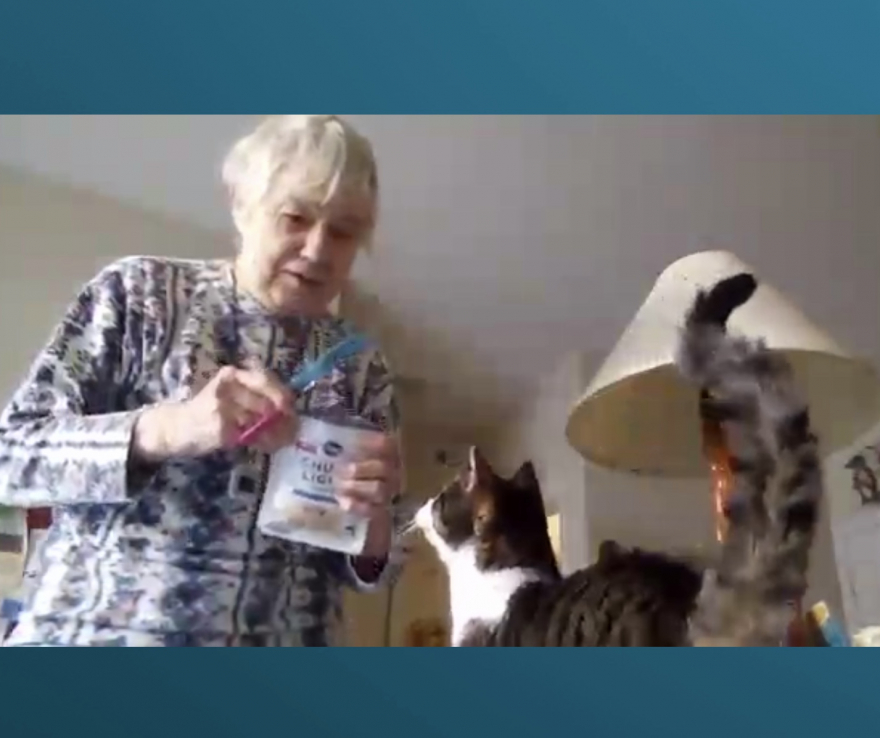 Mom getting Sputnik's special treat ready for him.
I did this at the urging of a student in my last pilot program. She said very simply, "Is there a handbook for this?" Meaning, stepping in as a caregiver for your aging parent.
I knew the steps I took looking back. They are burned into my memory. I just never wrote them out. Now that I have, I can say that yes, there is a handbook for caring for your aging parent.
More specifically it is a step by step path to empower yourself in reversing roles with your aging parent.
In my upcoming webinar this Tuesday, I will be sharing why each step is important and how they build upon one another so that you as the caregiver are living a balanced life with your family and your aging parent feels happy and safe.
Join me. Click here to register.
💖Coach Wendy
---
5 WAYS TO PREPARE FOR YOUR FIRST HOLIDAY ALONE
I'm sharing a link to one of AARP's fantastic articles. Well, this isn't so fantastic - having to go through the holidays alone - and yet, there are some suggestions here to make it, well, bearable and it's also nice to hear from others who are facing going through Christmas and New Year alone this year.
AARP Article - 5 Ways to Prepare for Your First Holiday Alone
Here's to better days!
---
HOW YOU CAN BRIGHTEN A SENIOR CITIZEN'S HOLIDAY
1. Find a retirement home or nursing home in your area.
2. Reach out to let them know you would like to drop off Christmas cards for all of the residents and you'd like to know how many you will need.
This will brighten many seniors Christmas seasons. Especially now when the pandemic is isolating them from their families.
It will only cost you for the cards and of your time.
PRO TIP: If you have kids at home who are e-learning and bored or if you have college kids home - put them to work signing the cards.
---
RAISING YOUR MOMMA:
A Webinar to empower yourself as you are just beginning your caregiving of your aging parent
Join us this Tuesday, December 8th at 2 p.m. CST for the Raising your momma webinar to help you to navigate the uncharted territory of caring for your aging parent.
We will talk about the steps you can take so that you can come to terms with the role reversal between you and your parent so that you can empower yourself for the days ahead.
Click here to register. Registration closes on Monday, December 7th at 12 noon CST.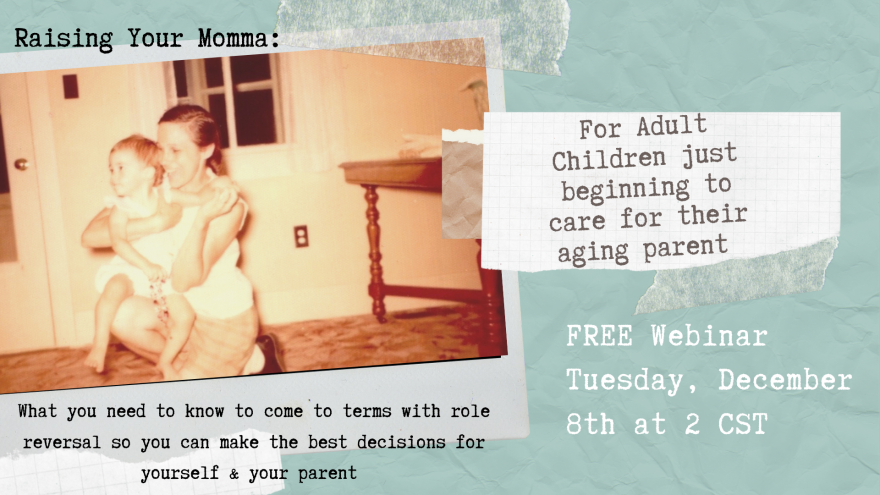 CONNECT WITH ME