THE 'I'LL TAKE CARE OF IT' TRAP
My mom recently had surgery (she's recovering really well!) and I caught myself falling into the 'I'll take care of everything' trap' again.
I've learned that I had to step back and let others help with my mom. The helpers were there. It was so easy for me to get 'sucked into' doing everything for her myself. When I stepped back, I realized that mom was being taken care of - maybe not in the way I would do it, but she was being taken care of.
I got stuck in my own 'I'll take care of it' and realized that was exactly where I was 9 years ago, when I first began to care for my mom, and I got burned out. Noticing that was where I was headed again was what stopped me and cued me in to step back.
I realize that I have the luxury of stepping back - or away - and that there is a team stepping in to care for my mom. And I feel deeply for those of you that stepping away is not nearly as easy, since I got a taste of that for myself.
In my empty pockets of time when mom was napping or eating or just generally entertained, I would go for walks to step away for a while, go home and take a nap (boy was that the best nap I've ever had), manicure my nails.
What do you do when you 'step away'? Join our Facebook Community, Support for Adult Children Just Beginning to Care for An Aging Parent right hereand let us know what you do for yourself as a care-decider.
❤️Coach Wendy
---
ARE YOU A CAREGIVER (CRINGE!) AND DON'T KNOW IT?
Read more by clicking here and also gain access to the quiz so that you can find out if you are caring for an aging parent and how to empower yourself so that you can have a life of your own AND a happy, aging parent.

---
REIMAGINE YOUR RETIREMENT
You might want to check out my friend, Coach LJ's website, https://reimagineyourretirement.com if you are or will soon be retiring.
She will be offering a program beginning on August 5th for those of you who want to 'Reimagine Your Retirement'.
---
UPCOMING EVENT-
Free 5 day JOURNEY From Frustration to having a life of your own AND a happy aging parent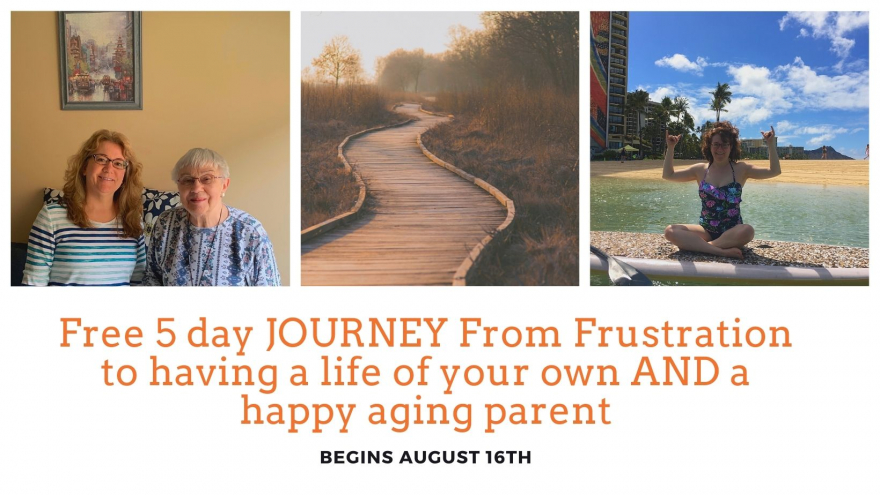 Free 5 day JOURNEY From Frustration to a life of your own WITH a happy aging parent
Join us August 16th - 21st
Each day I will share with you a step on the path to You Again - A Life of your own AND a happy, aging parent
Email me your questions and throughout the 5 day Journey, I will post the answer the next day in a video. And I'm looking for questions NOW. If you've got questions, you can ask them anonymously here .
Be sure to watch out for emails from me about this upcoming journey. You will be one of the first to know when registration opens for this free event.
---
CONNECT WITH ME